Pet Surgery
Pets undergo all kinds of surgery from simple procedures to complex operations. Some have routine procedures, such as spaying or neutering. Others have more complicated procedures, such as orthopedic surgery or tumor removal. At Wintermere Pointe Animal Hospital in Winter Garden, FL, we perform a wide range of procedures. Call us at (407) 554-3422 to learn more about pet surgery and schedule a pet wellness exam with our veterinarian, Dr. Pedro Santiago.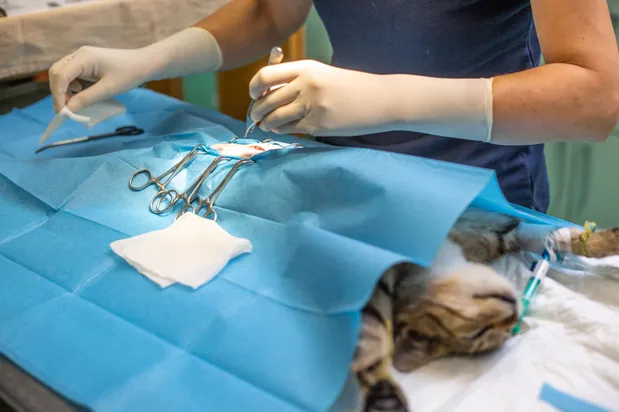 Why Your Pet Might Need Surgery
Surgery does not always mean that your pet has a serious condition or injury. Having your pet neutered or spayed involves undergoing surgery. These are common procedures that many pets go through to prevent reproduction and lower their risk for certain health problems and behavioral issues.
Pets sometimes need surgery to repair an injury that cannot be treated with other methods. Surgical procedures might also be done as part of a treatment plan for health conditions, such as osteoarthritis or hip dysplasia. Pets sometimes need surgery to remove an obstruction, such as when they accidentally swallow a foreign object.
What to Expect with Pet Surgery
You can expect the best pet surgery care at Wintermere Pointe Animal Hospital. Our staff will go over instructions on how to prepare your pet for its procedure. We will let you know how long it should take and when you can bring your pet home. Our staff will monitor your pet's vital signs and ensure its safety during surgery.
We will provide you with instructions on caring for the incision site once your pet's procedure is done. We will also give you detailed information on how to care for your pet to promote healing. We can help you set up a follow-up visit with our veterinarian if needed.
Pet Surgery and Your Pet's Safety
Our veterinary team understands how anxious you might be about your pet having surgery. We take precautions to keep pets safe before, during, and after procedures. We also encourage you to discuss any concerns or questions you have about pet surgery. You can count on receiving high-quality, compassionate care when you bring your pet to our animal hospital for a surgical procedure or any other service.
Contact Our Animal Hospital in Winter Garden, FL
Pet surgery can be a scary time for both the owner and pet, but if you can put those worries to rest if you give Wintermere Pointe Animal Hospital a call at (407) 554-3422 for an appointment. Our veterinarian, Dr. Pedro Santiago, can conduct a pet wellness exam, make a diagnosis, and determine if surgery is the most suitable treatment for your pet.