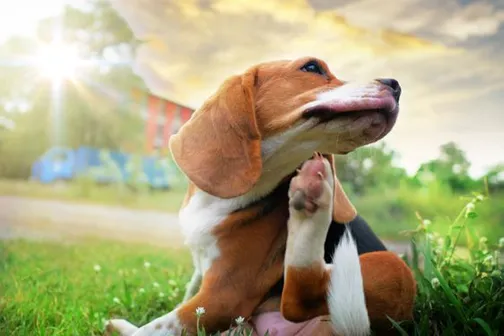 We at Wintermere Pointe Animal Hospital, serving Winter Garden FL, get a lot of questions about flea and tick prevention. One of the most often asked is 'Why does my pet need flea and tick prevention?" As your community veterinarian, we want to inform you about fleas, and ticks, and why it is important to protect your pet.
What Should I Know About Fleas and Ticks?
Found all over the world, fleas and ticks are small pests that can carry disease and bite your pet. Fleas love shady humid areas and are carried by animals like birds, skunks, and foxes. They jump a tremendously long distance and can land on any person or animal. Ticks also love shady humid areas and are carried by rodents, deer, and horses. They do not jump, but they can grab onto people and animals as they walk by.
Why is it Important to Get Flea and Tick Prevention?
Not only do fleas and ticks spread diseases like Lyme, Rocky Mountain Spotted Fever and babesiosis, but they also can do flea tapeworms, salmonellosis, plague, cat-scratch disease, and a host of others. Plus they irritate the skin and can cause your pet discomfort through scratching. Other pets are extremely allergic to their bites. Preventing fleas and ticks from coming onto your pets or living while on your pet can lower the risk factors for these diseases and can keep your pet more comfortable.
How Will I Know if My Pet Needs Preventative Care?
Unless there is a large flea infestation or the ticks have stayed on long enough to become large and noticeable, it is hard to find fleas and ticks on a pet. Using a flea comb when you groom your pet can help. Search around the head area on a cat and the rump portion of a dog, as those are areas that fleas prefer.
If your pet is licking more or scratching more, it is often a sign of a flea or tick, so you can check the area. There can be skin irritation and redness at the site.
We prefer preventing fleas and ticks year-round so that there is constant protection against them. While some areas have flea and tick seasons, others have year-round problems. Using a preventative helps keep you and your pet safe from these pests.
Flea and Tick Prevention in Winter Garden, FL?
Wintermere Pointe Animal Hospital would love to answer your additional questions and show you all the options in flea and tick prevention. Call us today at (407) 554-3422 for more information or to schedule an appointment with our veterinarian.