Training is an important aspect of having a dog that must not be overlooked. Despite the common saying, even an old dog can learn new tricks, and it is up to dog owners to ensure every dog has its day of education. Many dogs are intelligent, and want both to discover new things as well as please the people around them. We at Wintermere Pointe Animal Hospital serving Winter Garden, FL, know a lot about pet training and dog training with a dog trainer on our team.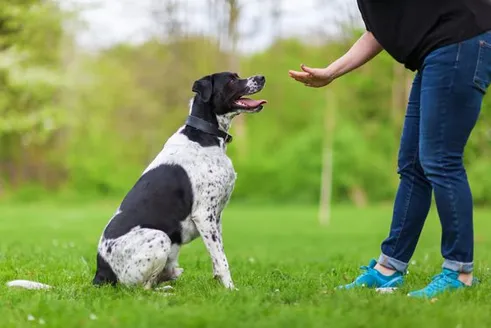 How Dog Training Can Help Your Dog
Anxious or timid dogs can benefit from pet training. Careful training can also help improve communication and affection between the dog and the people around it. Our dog trainer also spends more time with your dog, which meets a basic need for dogs which is to spend time with the people in its life.
Good dog training takes the basic instincts of the dog, and builds upon them, to encourage behaviors that people want to see in their dogs, and discourage behaviors that are undesirable. Many times, the unwelcome behavior of a dog is simply an expression of natural instinct.
Dogs experience their world through their senses, like we do. Thus, rooting, chewing, and digging are the means by which the dog smells, tastes, and feels the interesting objects around it and act out its instincts. A dog has no sense of morals, and cannot distinguish between right or wrong. It simply does what its instinct suggests is natural behavior. If trained, your dog can also learn to avoid trouble by acting when people aren't watching.
Chewing can be a particularly troublesome behavior. It is perfectly fine if the dog chews on a favorite toy, or a chewy treat like a rawhide. Chewing someone's shoes or the children's proverbial homework is unacceptable. Careful training can help the dog distinguish which items can be chewed and which are off-limits.
Digging is also sometimes problematic. Some dogs dig instinctively, looking for prey, or to build dens. Some, like terriers, were bred to encourage digging behavior. Careful training can reduce or control this inclination in dogs, and save your garden plants from being dug out by the family pet.
There are many sorts of dog training, from basic obedience training, to performance training, agility training, and specialized training for companion and service animals. We would be happy to consult with you to help you determine what sort of dog training best suits your needs and situation. We can also provide veterinary services with the help of our veterinarian.
Get Pet Training and Dog Training from a Dog Trainer at Our Animal Hospital
At Winter Ponte Animal Hospital, we not only provide the care of our veterinarian for your dog, we are also keenly aware of your need to train your dog careful. We can get you a dog trainer in Winter Garden, FL, to help you get dog training for your pet. Call us at (407) 554-3422 for dog traning or pet training. We also offer our veterinary services from our veterinarian.